Revisions to a dual Perth CBD development by Malaysian owned AAIG Holdings has sent Woodside Petroleum knocking on Supreme Court's door
The developer, which happens to be Woodside's landlord, has changed one of the buildings to an office residence instead of the original hotel and apartment plans
The revisions also move the buildings seven metres closer — causing Woodside to take the issue to Supreme Court
Woodside claims the proposed changes will affect shadows, general views, wind, and for potential competitors to land next door
Shares in Woodside Petroleum are trading higher today by 1.22 per cent for a pricing of $33.12 each
LNG giant, Woodside will take its complaints to the Supreme Court, as it expects to force a redesign of a planned Perth CBD building next door.
The company is taking issue with a proposed development backed by AAIG Holdings, over issues of aesthetics and branding.
Plans for the dual hotel and apartment developments at 98 Mounts Bay Road were first lodged in 2016. However, revised plans that put the towers seven metres closer to Woodside have since caused tension.
The original plans included Woodside, as AAIG is the landlord for them as well. Woodside said today the revisions significantly deviate from the original plans that the company signed a 15-year lease on.
A statement lodged by Woodside to the Supreme Court against AAIG has the energy company urging for the developer to stick to original plans. Reportedly, the AAIG backed buildings will be "significantly larger" as well.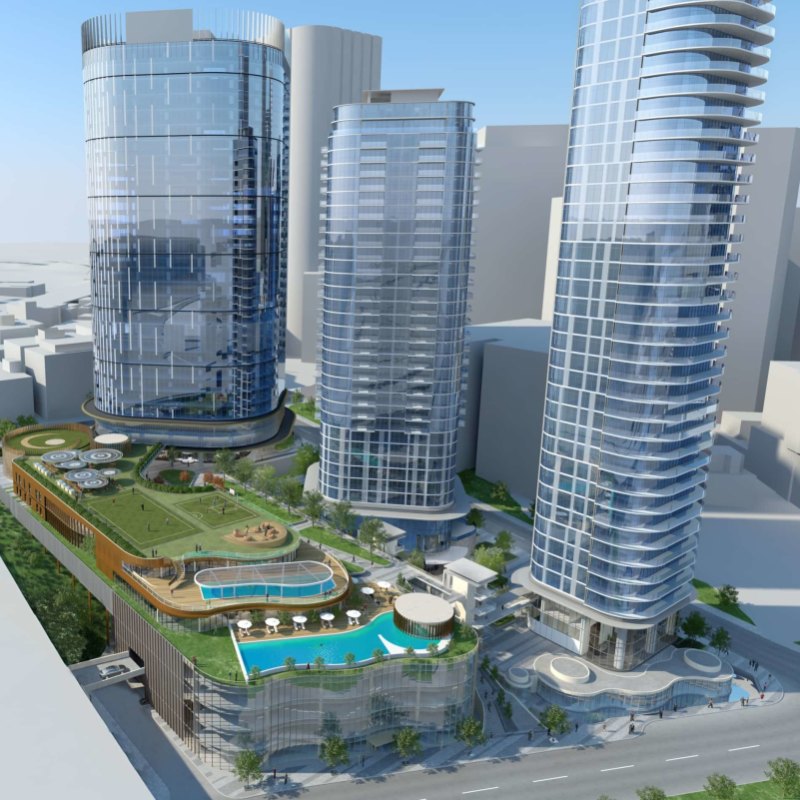 Woodside claims the newly revised buildings could "adversely affect [their] privacy" and "increase the effects of glass reflection and glare".
The revision lodged by AAIG to the City of Perth in September also shows one of the new towers to be an office building instead. Woodside stressed this could introduce a competitor's name to be displayed directly next door.
The energy company also said the new revisions would affect wind, shadowing, and general window views.

A Woodside spokesperson commented on the news saying "[it was] pursuing appropriate avenues so that the agreed development and amenities for Mia Yellagonga are retained, in respect of the revised development application submitted by AAIG."
"Mia Yellagonga" is the name of the Woodside building.
This isn't the first time Woodside's Perth building has seen headlines. Late last year the curved design of the building reflected sizzling heat and sent a parked BMW car smoking — reaching nearly 150 degrees Celsius.
Local firefighters seized the call and sprayed water on the car which disarmed concerns. They said they had never seen anything like it before.
Shares in Woodside Petroleum are trading higher today by 1.22 per cent for a pricing of $33.12 each.
WPL by the numbers