Ownership of a luxury superyacht is synonymous of unrivalled wealth, a status symbol and floating extravagance that only the world's wealthiest can possibly afford.
The commissioning of luxury superyachts has experienced a surge over recent years, each one unique in its way, much like the often-mysterious wealthy owners at the helm, who are constantly striving to own the biggest and best.
In their battle to do so, what started out as a relatively simple vessel with basic accommodation, has rapidly evolved into unrivalled extravagance redefining the concept of luxury as demonstrated with the world's top 7 most luxurious superyachts.
7. Dubai
Owner: Owned by a member of the royal family of the UAE
Estimated Price: $400 Million
Being 'fit for a King' is used to describe the best of the best things in the world. The superyacht Dubai is not only one of the best yachts in the world; it is also literally fit for royalty. The Dubai was originally commissioned by Brunei's Prince Jefri Bolkiah and named Platinum. The unfortunate Prince ran out of money and it now belongs to the emir of Dubai, who is also the VP and Prime Minister of the United Arab Emirates – Sheikh Mohammed Bin Rashid Al Maktoum.
Built by Blohm and Voss, with exteriors designed by Andrew Winch, and interiors by Platinum Yachts, the Dubai features a mosaic swimming pool, helipad, sunbathing platforms, Jacuzzis, and space for 155 guests. Below deck, guests will note the exquisite split-level, large social area, and VIP lounge.
6. Motor Yacht A
Owner: Andrey Melnichenko
Estimated Price: $440 Million
This very impressive looking 390-foot superyacht was built by Blohm + Voss shipyard and launched in 2008. Reports claim Russian tycoon Andrey Melnichenko owns the Motor Yacht A, with its unique design. If you lay eyes upon the Motor Yacht A, your first thought is of a stealth warship or military submarine, not a luxury yacht.
Architect Martin Francis and designer Philippe Stark, alongside Blohm and Voss in Kiel, constructed a boat that you cannot judge from the exterior alone. Inside, the 400-foot yacht features a 2,500 sq ft master bedroom, disco floor, six guest suites, moving walls to transform the guest suites into staterooms quickly, a separate 30-foot speedboat and a glass-bottomed swimming pool.
5. Topaz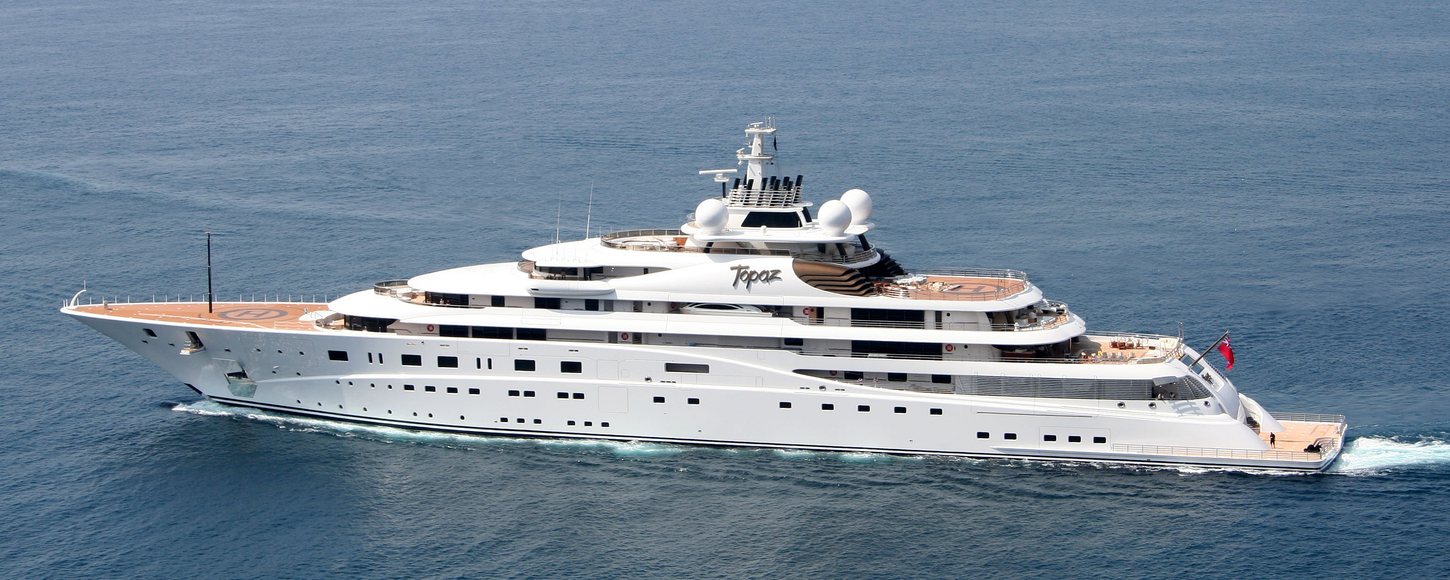 Owner: Shaikh Mansour
Estimated Price: $527 Million
Meet mega yacht Topaz one of the greatest luxury kings of the oceans, with a length of over 482 feet. The Topaz is among the largest private luxury yachts in the world. It's owned by billionaire Mansour bin Zayed bin Sultan Al Nahyan, Deputy Prime Minister of the United Arab Emirates and member of the Abu Dhabi royal family.
The stunning yacht excels not only for its monumental size but is also one of the most luxurious and comfortable out there. It is equipped with a gym, swimming pool, two hot tubs, a conference room, movie theatre and lift, as well as two heliports. Its interior was custom designed by Terence Disdale and the exterior by the renowned team of Tim Heywood Design. The skilful engineers from Lurssen Yachts shipyards in Bremen-Vegesack, Germany were responsible for the construction of this beautiful vessel.
4. Azzam
Owner: Owned by a member of the royal family of the UAE
Estimated Price: $600 Million
For six years, since her launch in April 2013, the superyacht Azzam stood as the world's largest private yacht. At 180m overall, Azzam was eclipsed only in 2019, when the research and expedition vessel REV Ocean was unveiled – and then by only three metres.
Azzam has its very own missile defence system, a bullet-proof master suite and can reach speeds of more than 30 knots, or 35mph, making it one of the fastest yachts on the planet!
3. Streets of Monaco
Owner: N/A
Estimated Price: $1.1 Billion
At an impressive 500 feet in length, the Streets of Monaco luxury yacht manages to pack in numerous miniatures of renowned landmarks from throughout Monaco. But that's not all. The vessel is called a "floating city" due to the three-floor bedroom with a private elevator, an office, sundecks, balconies, a café-bar, mini waterfall, barbecue pit, underwater viewing deck, helicopters, submarines, guest suits, dressing rooms, reception rooms, and so much more. $1 billion will build a lot of yacht.
2. Eclipse
Owner: Roman Abramovich
Estimated Price: $1.5 Billion
The second most expensive yacht in the world, Eclipse, is owned by Roman Abramovich. The Russian billionaire has spared no expense when it comes to his superyacht. He's installed a private defence system, including missile detection sensors, intruder alarms and armour plating and bulletproof windows in his master bedroom. On top of that, Eclipse has two helipads, two swimming pools, 24 guest bedrooms, a disco hall and a mini-submarine.
It's unclear how much Eclipse actually cost, but it is believed to be in the region of $1.5 billion!
1.   History Supreme
Owner: Robert Knok
Estimated Price: $4.8 Billion
Solid. Gold. At $4.8 billion, the History Supreme, owned by Robert Knok, is the world's most expensive, largest superyacht in the whole world. At 100 feet in length, History Supreme took three years to build, using 10,000 kilograms of solid gold and platinum, both of which adorn the dining area, deck, rails, staircases, and anchor
The master suite features a statue made of Tyrannosaurus Rex bones. Yes, you read right. The master bedroom has genuine dinosaur bone shaved from a skeleton was sourced from Arizona, USA. Pieces of the thigh bone alone come in at about £68,000.
If that weren't luxurious enough, the master suite features a meteorite rock wall, a 68 kg 24-carat gold Aquavista Panoramic Wall Aquarium, and a liquor bottle adorned with a rare 18.5-carat diamond.