Deciem's core philosophy is to offer beauty enthusiasts, experts, and everyday people the beauty products they are looking for which cannot be found anywhere else. With this interesting and dedicated philosophy driving the brand, they have steadily grown to become an authority in the beauty space.
Aside from the Deciem commitment to innovation, the company also prides itself on its dedication to quality. In a world where everything is fast and quantity is appreciated more than quality, Deciem begs to differ.
For Deciem, quality encompasses not only holding a standard of uniqueness but also one of authenticity, functionality, affordability, all without sacrificing aesthetics. A theme you will find across the Deciem brand portfolio.
The Chemistry Brand is a line of award-winning skincare for the hands and body. This innovative brand takes a unique approach to body products, creating formulas that would rival even your facial skincare.
It's not just our faces that show visible signs of aging or suffer from skin concerns or issues. The skin is the largest organ in our body and works to protect everything inside it, so it deserves to be treated and cared for with the utmost respect.
The brand's main focus is to target all signs of hand and body aging. The products are developed by top skincare experts using powerful active ingredients. They are big fans of proven active ingredients, so don't be surprised to see ingredients like hyaluronic acid and retinol that are usually reserved for potent facial skin solutions.
What makes The Chemistry Brand's formulas different is that they take these hard-working actives and use them at the highest possible concentrations, allowing you to see and feel the results far quicker.
1. Extreme Hydration Concentrate
The Chemistry Brand Extreme Hydration Concentrate is more than just a hand cream. It uses the latest skincare science to care for your hands deep down, repairing and regenerating while delivering protective moisture and hydration. It contains 5 hydration systems from marine and plant sources for lasting hydration and instantly visible results.
A Hyaluronic Acid Pre-Cursor encourages the skin to make its hydration for long-term benefits, while Tremella Fuciformis extract delivers below surface hydration to make a huge visible difference to skin. A Protective Shield Matrix acts as an invisible 'glove' to protect skin ensuring it retains its moisture and protects from extreme environmental conditions.
2. Glow Oil
Created in response to a self-tan market where DHA reigns supreme, Glow Oil presents a viable alternative. Hand Chemistry Glow "Oil" is particularly cool because it doesn't contain dihydroxyacetone, which shows up as the key staining ingredient in almost 99.99% of fake tans – instead, it uses erythrulose (the raspberry-based keto-sugar referred to on the packaging), which works slower but supposedly also lasts longer, and gives a more natural colour.
The fact that it's DHA-free also means that it doesn't have the same "fake tan smell". Instead, it smells almost cloyingly sweet when you put it on (supposedly from the watermelon extract), but it fades to a slightly sweet scent after an hour or so.
It's the perfect product for those who want to cultivate a gentle glow rather than a full-on tint, with kind-to-skin ingredients and a gorgeous watermelon fragrance to boot.
3. HA3 Hand Hydrator
Unlike traditional creams that offer merely surface hydration, this triple-function hydrator (HA3 Hand Hydrator) offers multi-depth hydration while forming an invisible protection "glove" to help prevent moisture loss. Contains both low- and high-molecular-weight forms of nature-like hyaluronic acid for instant and longer-term hydration in a base of liquid mango butter, Brazilian Açaí and Inca Inchi oil.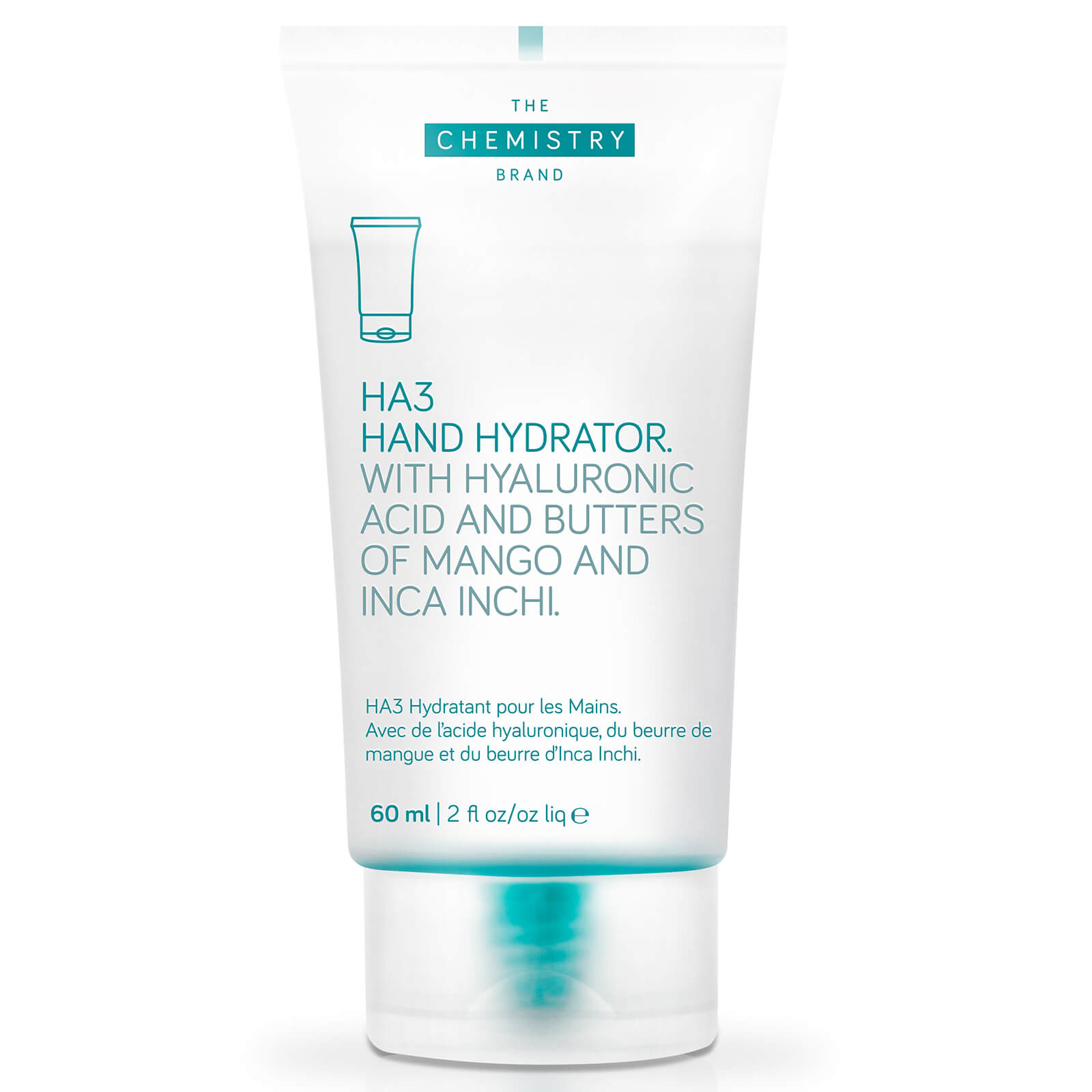 4. Hand Chemistry
The Chemistry Brand Hand Chemistry is an anti-ageing hand cream that targets 8 signs of hand ageing to give you beautifully soft, younger-looking hands.
It does much more than just moisturize, with 19.5% active ingredients to make the skin of hands look firmer, more elastic and more even, improving density, texture, brightness, smoothness and hydration levels.
The hugely effective formula includes Copper Peptides which have been shown to reduce wrinkle depth by 15% in 15 days plus Tremella Fuciformis mushroom extract which is up to 400x more moisturizing than Hyaluronic Acid. Sacha Inchi Oil and Maize Propanediol work together to form a protective 'glove' around the hand, preventing moisture loss. The result is beautiful, younger-looking hands.
5. Heel Chemistry
This formula claims to hydrate cracked skin and provide hydration below the surface to improve hard skin, while providing a cooling effect, with results within 2 weeks.
Heel Chemistry contains a marine complex proven to improve skin texture and hydration and counteracting extreme dryness. Calendula provides healing and regeneration for short term and long term results. This does not contain urea or acids.
6. Hyaluronic Concentrate
The Chemistry Brand Hyaluronic Concentrate delivers intense hydration to hands and body for smoother, softer, well-hydrated and happy skin.
The Chemistry Brand Hyaluronic Concentrate is packed with hard-working ingredients to instantly refresh and revive skin while delivering long-term hydration. The formula is based around an exceptionally pure form of Hyaluronic Acid, known for its hydrating properties and ability to hold up to 1,000 times its weight in water. It helps skin retain its moisture and maximize the benefits of other products.
Extracts from the Tremella Fuciformis mushroom provide a protective 'film' of moisture to the skin, restoring it to its optimum state. It promotes the growth of elastin cells, helping skin stay firm and young-looking, while also delivering anti-oxidant benefits. Red Algae increases skin cell turnover, boosting skin elasticity and hydration, while Tamarind Seed extracts deliver below-surface and long-term hydration, improving skin's texture.
7. Inhibitif Body Serum
Hair removal techniques such as shaving or waxing can leave skin red and irritated with unsightly ingrown hairs.
The Chemistry Brand Inhibitif Body Serum helps to minimize the look of hair regrowth, irritation, redness and ingrown hairs. Hyaluronic Acid deeply hydrates for comfortable skin that prevents irritation.