After a year like 2020, we all deserve a treat. Self-care has proven to be a must this year, and, as Christmas celebrations draw nearer, there could be no better time to gift your loved ones (or yourself) all of the tools needed to unwind and pamper.
Whether you are treating yourself for getting through the year, or shopping for your nearest and dearest, we have cherry-picked our very favourite top-shelf beauty and luxe buys for this festive season.
1.ORCHIDEE IMPERIALE ULTRA PREMIUM DAY CREAM
Orchidée Impériale Black is the most covetable skincare range in the Guerlain portfolio, made with exclusive raw materials like no other. At the heart of the formula is the black orchid extract, identified by our orchid research centre, the Guerlain Orchidarium, to be the most remarkable orchid on earth for its ability to adapt to its environment to increase longevity.
Orchidée Impériale Black Cream is the perfect gift for anyone looking for the highest quality in skincare technology who has a passion for sustainability and understands they are investing in their beauty routine and the environment with this prestigious purchase.
2. AMOUAGE REFLECTION MAN GIFT BOX
Amouage Reflection represents the essence of masculine refinement, both luxuriously modern and seductively classic.
The textured florals in the heart notes capture the seductive power of a man's inner strength. The iconic notes of patchouli and vetiver in the base, blended with sensual woods, reflect his true elegance and underline the fragrance's timeless appeal. Reflection Eau de Parfum for Man is compelling, distinctive, and unmistakably masculine.
The gift set includes Reflection Man 100 ml EDP and 300 ml Shower Gel. The products come in a dark wood lacquer box, which later, can be used as a jewellery or watch box.
3.CARROL BOYES LAID BACK CHIP & DIP
Award-winning designer Carrol Boyes crafts - home accessories that look as though they belong in an art gallery. She aimed to combine sculpture with functionality and the result is a range of absolutely gorgeous homeware and table-top accessories.
This double bowl combination has more uses than you can imagine. Chip and dip, fruit and ice cream, pasta, and sauce, the possibilities are endless.
4.MONTBLANC PASSPORT HOLDER SET
This Montblanc gift set is composed of a PIX rollerball and a Meisterstück passport case. The Montblanc Pix Collection Rollerball in black precious resin has elegant platinum-coated fittings with individual serial numbers.
Furthermore, the international passport case is made of European cow black leather with a unique Montblanc deep shine. Inside the set, is a Jacquard lining that spells out the Montblanc brand name and Montblanc emblem with a palladium-coated ring.
5. Tiffany & Co. Schlumberger Sapphire and Diamond "Sixteen Stone" Ring
Tiffany is known for having created some of the most colourful and sophisticated fine jewellery designs of all time, including those by the iconic Jean Schlumberger
Brilliant-cut diamonds alternate with yellow gold crosses to create this eye-catching design. The diamond and sapphire ring features an "X" pattern around the ring that makes it immediately recognizable as Schlumberger.
The simple yet bold style of this ring pairs well with everything in your wardrobe, from jeans to a cocktail dress.
6. Tiffany & Co. Amazonite and Wood Chess and Checkers Set
Featuring American walnut with a sterling silver inlay, Tiffany & Co.'s skilled artisans have transformed the humble chessboard into a luxurious display. With whimsical accents of Tiffany Blue, this luxurious set features an innovative lid that flips over to become the gaming boarding and 40 pieces of hand-cut blue amazonite and white howlite.
7. DIOR MEDIUM LADY D-LITE BAG
Multicolor Dior In Lights Embroidery
The Lady D-Lite bag combines classic elegance with the modernity of the House. This style, fully embroidered with the graphic Dior In Lights motif, is inspired by the light festivals in the south of Italy. Each of the four sides showcases a different colour for a patchwork-like look.
The medium bag can be carried by hand, worn over the shoulder or crossbody, and pairs easily with other matching Dior In Lights creations of the season.
8. DIPTYQUE Tubereuse candle
This scented candle with five wicks contained in an earthenware pot entirely handmade by a renowned porcelain maker evokes this enigmatic, beguiling, and heady flower that deploys its captivating sensuality at dusk.
9. WOLF Large Zoe Jewellery Box
Exuding easy elegance for the sophisticated woman, the Zoe jewellery box from Wolf is delicately embroidered with floral motifs to the exterior, allowing you to proudly display it upon your dressing table. Opening it up reveals three drawers and a top compartment for separating essential trinkets, while the structured design's mirror means you can test evening pieces out before making your choice.
10. ASSOULINE THE IMPOSSIBLE COLLECTION OF WINE BOOK
Assouline, the premier luxury library brand, adds to its Ultimate Collection with this definitive wine guide. Written, curated, and edited by Enrico Bernardo, the world's best sommelier, it covers the last century's most exceptional wines, poring lovingly over their terroirs, tastes, and histories. Weighing the virtues of rarity, terroir, taste, and historical mystique, Bernardo's is a list any connoisseur could only dream of.
Whether a 1928 Krug Champagne, 1951 Penfolds Grange Bin 95, or a 1973 Stag's Leap Estate SLV is your nectar, you'll enjoy savouring every page of this fabulous edition. It features hand-tipped images and is presented in a wood crate. The irregular effect in the mid-section of the book is a result of hand craftsmanship. Complimentary gloves and a signature Assouline canvas tote bag are supplied with each title.
11. BVLGARI LVCEA WATCH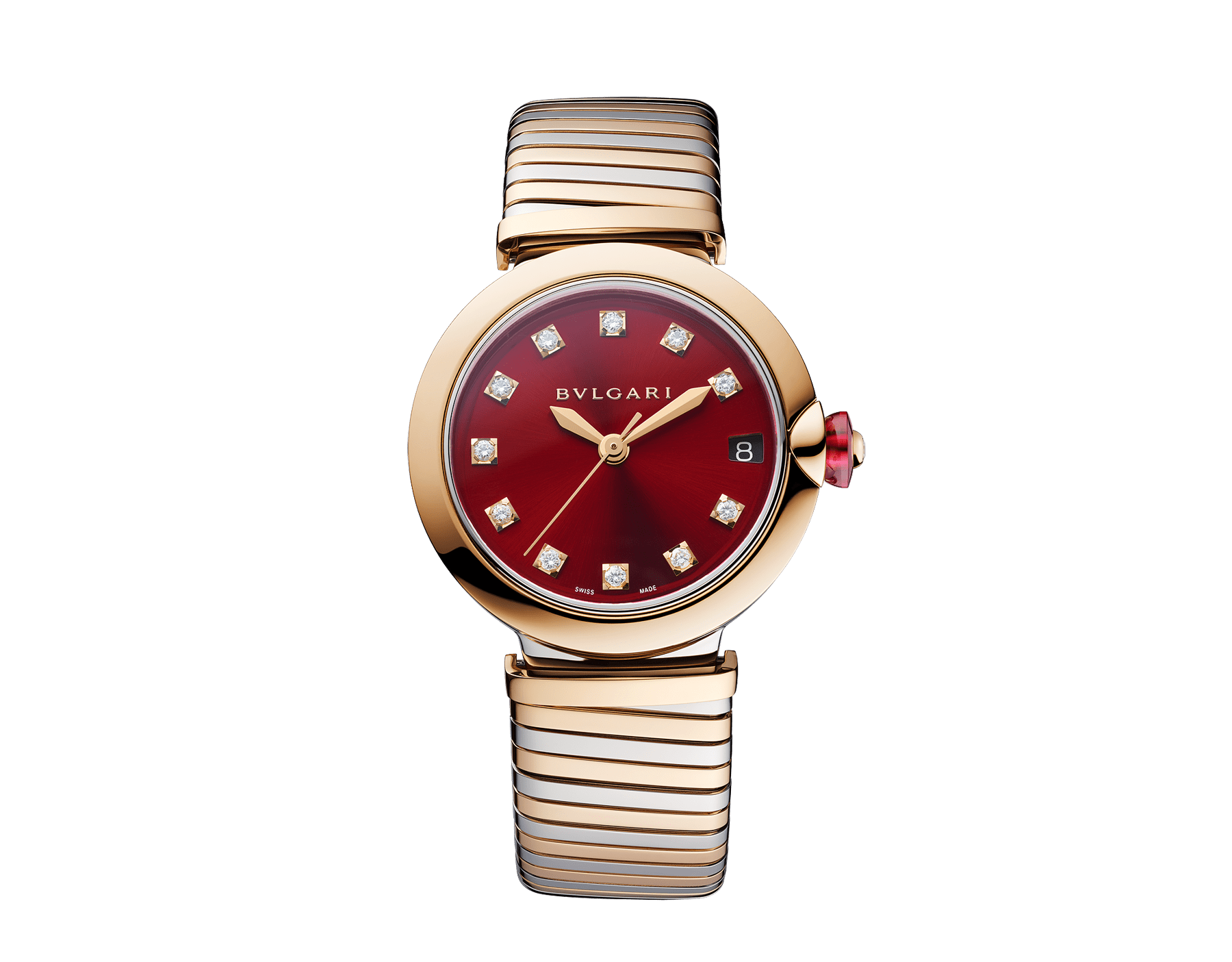 Embodying the luxury of the Roman Jeweler, the Bulgari LVCEA collection brings together polished metals and round faces to pay tribute to the sundial. Inspired by the innate link between light and time, this collection adds glamour to the everyday. In this special interpretation dedicated to Chinese New Year celebrations, LVCEA is exceptionally endowed with a red heart, as this intense colour is symbolizing good fortune and joy.
12. JO MALONE LONDON AMBER & SWEET ORANGE LUXURY CANDLE
A fragrant invitation to an elegant affair. Climb the sweeping staircase into the heart of the festivities, the air alive with the sound of laughter and the clinking of crystal. With a stunning bouquet lit across four wicks, The Amber & Sweet Orange Luxury Candle envelops a room and lingers for hours to create an ambience of warmth, sophistication, and style. It is the ultimate luxury.
13. GUERLAIN ROUGE G LIMITED EDITION
Guerlain has created its first limited edition customizable double mirrored refillable lipstick case designed by Lorenz Baumer and adorned with a rhinestone bee: Rouge G de Guerlain.
Choose your shade and case to create your own lipstick. A multitude of styles, from the most timeless to the trendiest, along with limited editions, to meet your every wish.