It's been a wild ride this year, and everybody needs that extra love, especially this holiday season. Here is a list of luxurious Christmas hampers – perfect to give this Christmas to business partners and colleagues or family. Because for this year, one bottle of champagne just won't cut it.
We all have special women in our lives - that deserve a little home pampering time. Spoil them with the L'Occitane & Moët Hamper from The Hamper Emporium. Let her have a lavish bath using a French Pink Clay & Pink Salt Bath Soak while sipping on Moët & Chandon and munching on Morgan's French Vanilla Almonds. Elate her senses with the L'Occitane Cherry Blossom soap and cream combo. But wait, there's more. A burgundy cosmetic bag, pure Mulberry silk eye mask to use at night and an A6 gold-lined notebook to round it up. What more could you possibly ask for?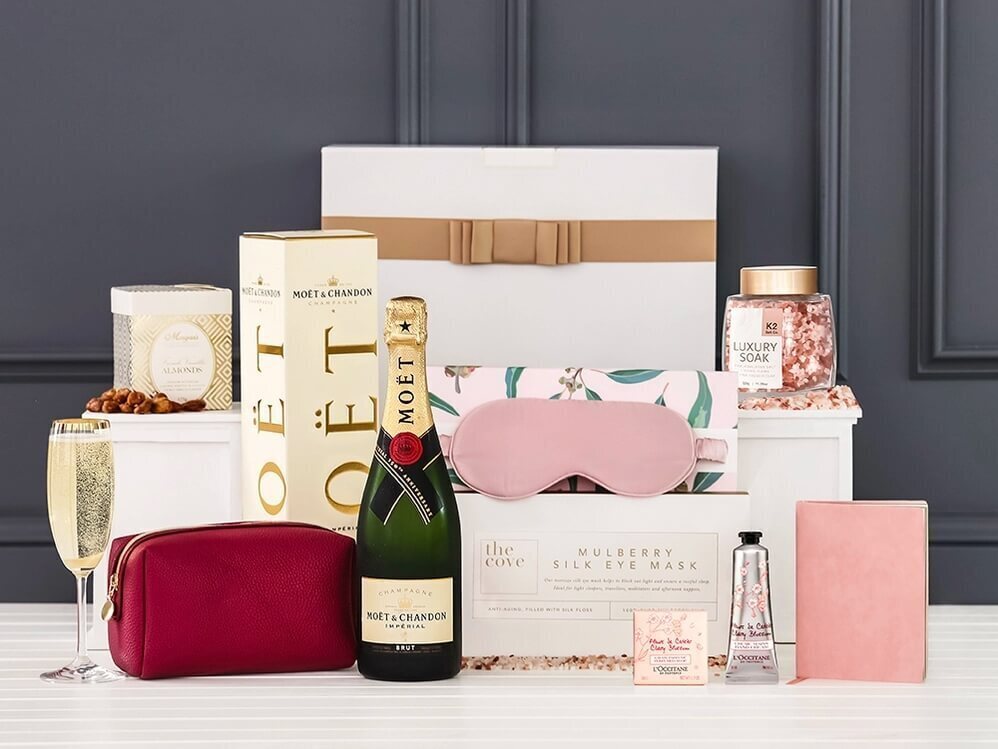 Hamper for the whisky lover
There's the man who enjoys a drink, and then there's a man who knows how to savour and make every sip count. This man knows what he wants and won't settle for anything less. Which is why this hamper includes a Gold Bar American Whisky-Finished on a 24k gold flake (750ml), a Vidori glass decanter (1Lt) and a 200ml Vidori gold flask, two tumbler glasses, a Gentlemans Hardware granite and soapstone ice rocks (6 pack) and Ferrero Rocher chocolate for the win.
Hamper for the sweet tooth
We all have that loved one who can't stop eating sweets, whatever the time of day. Brighten up the holidays by giving them The Ultimate Koko Collection Hamper. Packed with 13 different luxury goodies such as the Chocolatiers Selection 36 -piece gift box and The Truffle Collection gift box, they might need to visit their dentist asap, once they finish it of course.
Hamper for the shaken or stirred
For that loved one who always asks you if you'd want your drink shaken or stirred, this cocktail and dreams hamper is the ultimate gift. The hamper includes a 700ml Four Pillars gin, the Everleigh Bottling Company Famous Four Cocktail Set: which has The Martini 90ml, The Negroni 85ml, The Manhattan 90ml, and The Old Fashioned 80ml. Shaken Essentials Kit in copper, including a Parisian Shaker, Japanese style jigger 15/30ml and no prong V strainer. Plus a Zokoko Goddess dark chocolate.
Hamper for the nibbler
There's nothing better than nibbling on artisan products whilst sipping the world's best champagne. This hamper includes two kinds of Brewer's nuts, Kangaroo Island olives and artisan crackers, Regimental Condiment Co crackers and roasted capsicum, a Luke Mangan quince paste, L'Orto Di Franco semi-dried tomato halves, and Most Oro' cold-pressed olive oil.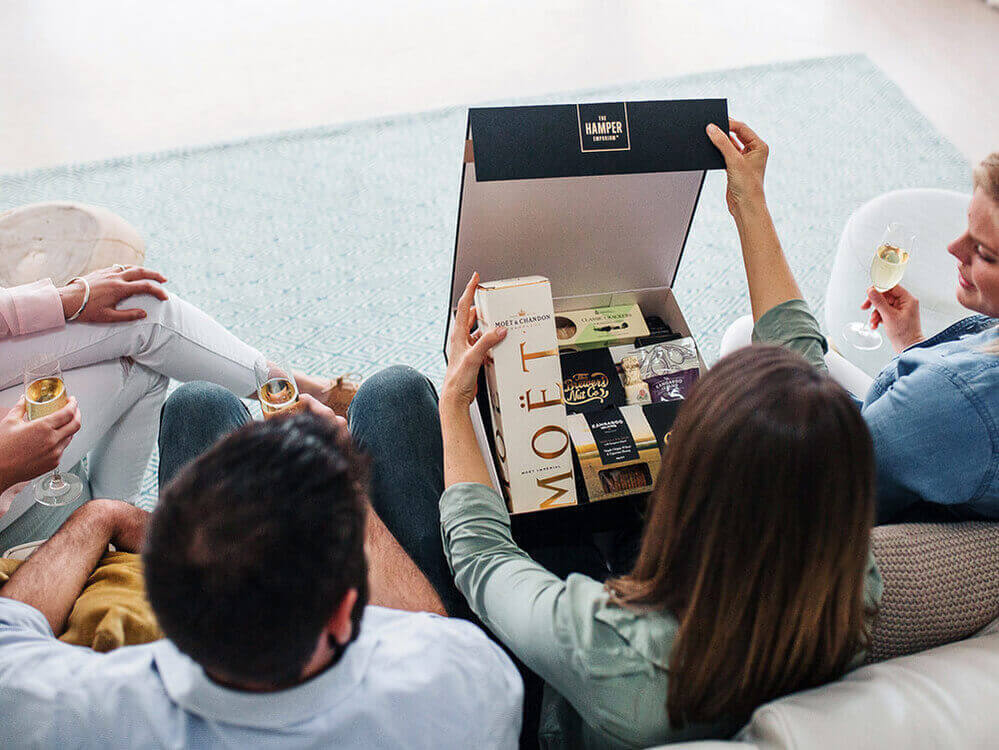 Hamper for the sun lover
You know that loved one who just can't get enough of the sun? Yes, that one. Surely, they will fall in love with this sun lover hamper by Veuve Clicquot. You've got champagne, Morgan's French Vanilla almonds, a tote bag and a fan, plus L'Occitane Jasmin & Bergamote soap and lotion. A yacht is all you need now.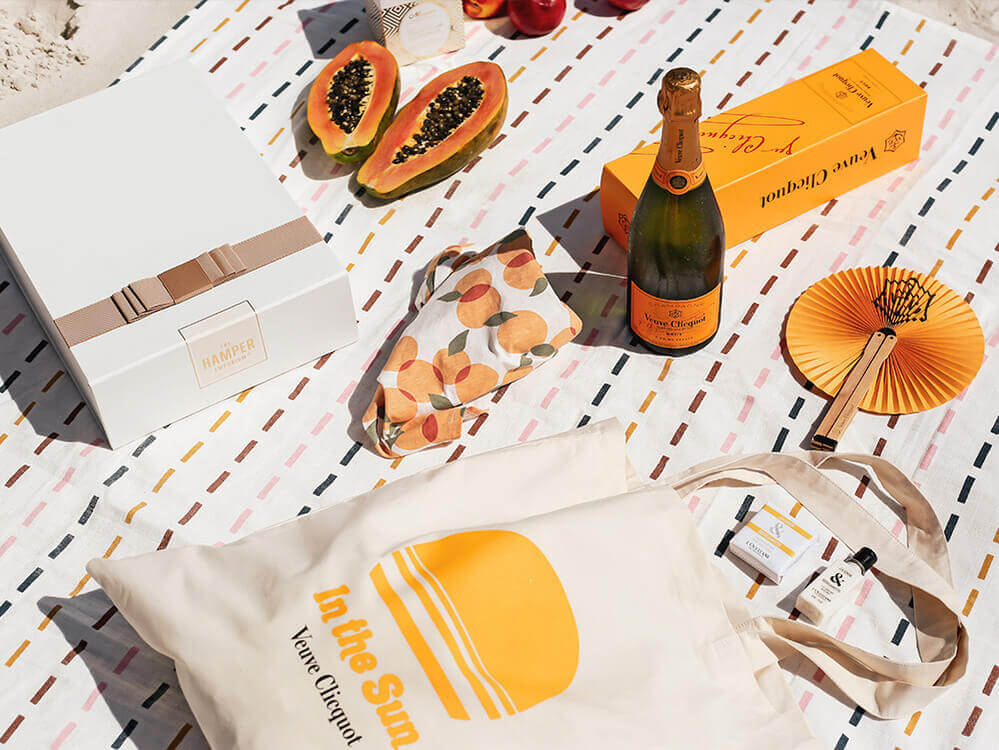 Hamper for the best of the best
This hamper is full of superlatives. Impressive won't even cut it. Aside from the abundance of signature Snowgoose cherries, it comes with some Henschke goodies - Mt Edelstone Shiraz and Keyneton Euphonium, which are limitedly produced. To complete the set, Farmhouse Oak Smoked Cheddar, camembert and Will Studd's decadently creamy Brillat Savarin cheese is also included. Plus Rolada and handmade biscuits from Bizzarri Dolci's kitchen, to cap it off nicely.