Crypto is back, and so are the companies that are on the leading edge of facilitating the global shift from fiat currency to cryptocurrency.
Recently listed on the TSX Venture Exchange, Banxa Holdings (TSX-V.BNXA, Forum) is a global payment service provider for the digital asset industry, helping connect the existing 'fiat' financial world with the new digital asset world.
The company offers global and local payment methods like credit cards and retail store networks. With zero chargebacks and easy-to-integrate API software, exchanges, wallet providers and other industry players can offer their customers an easy and secure way to buy cryptocurrency.
A truly one-stop-shop for digital assets, Banxa takes care of all regulations, as well as payment network integrations, operational overheads and even fraud management.
In this vodcast, Stockhouse Media's Dave Jackson was joined by Banxa Founder and Chairman Domenic Carosa to discuss how the world can seamlessly transition to a safe and secure digital asset financial system and how Banxa is at the forefront of this evolving, exciting technology.
SH: So, Domenic … let's start with the latest big news – the recent RTO with A-Labs Capital One Corp and subsequent listing on the TSXV. Can you tell us the investment buzz leading up to going public and what's it been like since?
DC: Yeah, so we've only had he been in public just recently, and maybe just to take a step back that there's actually a reason why we decided to go down this route because it's, to a degree, it's quite unconventional for companies in the digital asset crypto space to be going down this path.
You know, given that we are dealing with banks and regulators and large customers like Binance and major exchanges, you know, our view that being listed just provided a greater degree of transparency for all of the key stakeholders that we're working with.
And we've actually had very positive feedback from those stakeholders, the regulators around the fact that, you know, in fact banks are, is the first PSP payment service provider servicing the digital asset market to be listed anywhere around the world. So, I think that's a major achievement and major milestone for not only our company, but also the industry.
SH: How is Banxa's fully integrated platform uniquely positioned to give you a competitive advantage in the fiat currency and crypto marketplace while exceeding investor's expectations?
DC: Just to maybe take a step back and paint the picture, what is Banxa all about? Why do we actually exist? And today, you know, as we know, more and more people are starting to get involved in cryptocurrency it's no longer the domain of, of the nerds. And, and I'll put up my hand and say, yep, I'm a nerd.
You know, back in the day, back in late 2013, when I started and got involved in, in this space, but for the 99 per cent of people that are now just starting to get involved in the sector, and it's not just people, but family offices, institutions, when they basically start off, they start off with fed currency. And I mean fed US dollars, Canadian dollars, Euro.
And so, what Banxa does is effectively facilitate the transfer, the payment of Fayette to crypto or digital assets. So, we call that the fiat on-ramp and the fiat on or off-ramp, and the way to really look at what we do.
We're an infrastructure company that connects the current existing financial world with the new digital asset world. And you may ask, well, how do we actually make money? Think of it. It's like a tollway. When you drive down our tollway, we basically, you have to pay a little toll. And so, we're effectively laying the foundations of what I believe is this new digital asset financial system.
SH: Can you explain to our investor audience that might not be entirely familiar with this type of digital solution and what you mean by "plug & play fiat … on and off-ramp?"
DC: Yeah. so, the way that Banxa works, we've got obviously a number of B-to-C consumer assets. So, you can go to banks.com, but our real push and key differentiator is that we work with global exchanges, you know, as such some of our customers and partners are Binance and OKEX, Huobi and KUCoin coin some of the largest global exchanges out there.
And so, we plug in our payment infrastructure into those exchanges, and then we allow their customers to use our payment infrastructure and then transact and we'll deal with all the AML KYC, we'll deal with all the local payments, which is actually really, really important moving forward. And we just make it really, really simple for the consumer.
We make it simple for our customers. They don't need to deal with the AML KYC, all the local myriad of local regulations dealing with, you know, the hundreds of different payment methods available out there. That's basically our job — we take on that heavy lifting and we just make our life easier. And our mission is to onboard the masses and just make it a really simple seamless process.
SH: The cryptocurrency space, especially Bitcoin, made a huge comeback in 2020. How has Banxa positioned itself to help investors ride the wave of the crypto profitability moving forward into 2021 and beyond?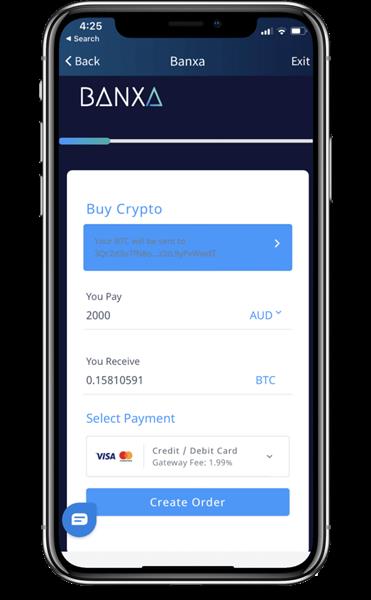 DC: I believe Banxa actually gives investors a good opportunity to get exposure to Bitcoin and the digital asset space without actually owning the underlying currency, because the way that I look at it, and it's a bit sort of an allergist to you know, the picks and shovels analogy that you used to use back in the dotcom days in the late nineties.
And you know, one of the sectors that actually performed extremely well during that time was the companies providing the infrastructure, the services to the internet companies of that era. And so, in, in my view, I think banks are well, we're the first PSP that's listed globally.
And so, we give investors exposure to that space without owning crypto. And, you know, ultimately the numbers do speak for themselves over the last 12 months. One of the key metrics that we use to determine the performance of the businesses we call that TTV, total transaction volume. And in the last 12 months, we've had over 400 per cent growth in that TTV number.
And we expect that trend to continue and as more and more consumers, more and more institutions move into the digital asset space. And it started with a little trickle. And I think we can now see, you just need to look around, it's now starting to become much more of a flood. In my view, 2021, 2022 will be the years where Bitcoin and crypto become mainstream.
SH: Banxa is constantly expanding its global reach and local payment partner network, including all the big names like Mastercard, Visa, Google Pay, etc. How exactly does the payment system work and what are its inherent benefits?
DC: Certainly. So, from a consumer perspective, we try and offer a mirror of different payment options. You mentioned Sunlight credit cards. Obviously, we offer credit card as well as Apple Pay and Google Pay. And if you're doing a small transaction, they're actually, okay, it's nice and convenient.
Albeit as you know, the fees with credit cards are actually quite high. And part of the value proposition for our customers and our partners is that we have a multitude of other different payment methods. And for example, in Canada, we have Interac, which is a local payment method.
So, you as a consumer could use credit card or interact in the us multiple payment methods, we've got payment methods across Europe. And so, the benefit for our partners is one API effectively won't connection to us, and we can offer 30, 40 different payment methods, both digital as well as physical.
And that's the other point of difference. So, we started originally in Australia we have an exclusive deal with Australia post where you can physically walk into any location and pay with cash or debit card. And then five minutes later, you've got crypto sitting in your account and you might say, well, why, why get something digital and move it into the physical, what our view is and what our experience shows for newbies in the space.
They actually sometimes want to go and speak to someone at a shop. They want to kind of create that tangibility around something that is inherently intangible in terms of a digital asset. And so, our mission is to create as many different payment methods as our customers want all around the world.
SH: Banxa provides an internationally compliant fiat-to-crypto gateway solution for exchanges, wallets, and other cryptocurrency businesses. This sounds like a real game-changer in the space!
DC: Yeah, certainly. When we first started the business in early 2014, there were no regulations around Bitcoin and crypto. It was to a degree the wild west. And I'll agree with that. We are a strong believer in regulation because regulation provides a greater level of certainty and accountability to key stakeholders in the space.
And in fact, banks are, we were one of the founding members of an association out of Australia and we lobbied the government for regulation. And I know that for a lot of people who are actually natives in the crypto space, they sometimes don't like to hear that, but we took a much more pragmatic approach and our view, and my view very strongly is for Bitcoin and crypto and digital assets to become more mainstream, they must be regulated.
And so, the value proposition, what does that mean for anti-money laundering (AML), know your customer (KYC) and politically exposed person (PEP) checks? I'm not going to get into that, the technicalities of how that works, but in effect, it's the same kind of onboarding site system and process that you would get at a bank or a broking account.
And then at that, when, once you've completed that, then you're able to effectively buy your crypto. And so, what we do, it's a one-stop-shop through an API and we just deal with all that, the regulation, the liquidity, the payment methods and we just ultimately make it really simple for people to buy.
SH: Can you tell our audience about the genesis of Banxa and building your corporate management team…especially the experience and innovative ideas they bring to the digital asset industry?
DC: Yeah, certainly. We've got a very, very strong team spread across Europe, Australia and Asia. I've, I've personally been involved as the founder of the company in technology since the mid-nineties. And as I mentioned, I'm a self-confessed nerd and we've built a really strong management team.
We've got our CEO, a guy called Holger Aryans, who's based out of Australia, but he's a German national. And as I like to say, he runs the company with German precision. And then we've got a board of directors that has significant experience around public companies you know, corporate and strategy.
And at the same time, we're always trying to find and adding new people. And we've actually just, if anyone's looking for a position in the space, you know, go to banks.com. We're on the job boards as well. Finding really good, talented people, I think is a key success factor for any company in the space. And we obviously spend a lot of time and energy making sure that we have the A-team in order to drive our business forward.
SH: Domenic, for investors who are new to your company, what sets really Banxa apart from other companies in this space?
DC: We're the first global payment service provider (PSP) servicing cryptocurrency anywhere in the world. In my view, we have the most number of payment options, payment gateways available, and also the fastest-growing. So, from an investor's perspective, it's giving investors access, you know, if investors believe, and this is really a hypothesis, if you believe that digital assets are here to stay, that digital assets are only going to become more and more important over the next few years.
You know, from a consumer perspective, more and more money from Fayette money, like US dollars in Canada, Canadian dollars and Euro will be moving into Bitcoin and other coins then banks are in my view well-positioned to take advantage of that. And as I mentioned early on, you know, we are building the infrastructure, the toll roads that connects what I call the old world with the new world.
And every time someone travels down, we clip the ticket. And one of our philosophies is we'd like to make money while we sleep. And that's, that's ultimately the strategy and the genesis of the company.
SH: Finally, Domenic, if there's anything I've overlooked and you'd like to share with our audience, please feel free to elaborate.
DC: Yeah. I think you've been quite comprehensive in regard to the overview, what I would say though, for, for a lot of people, Bitcoin and crypto, it's actually quite difficult to actually understand and sometimes explain.
If you go to the banks.com website, we've actually created a number of educational guides. So, if you click on the investor section, there's some educational stuff in there that will actually teach you and learn.
But what I'll also say, and whether you use Banxa or not, is irrelevant. The way that I learn is actually by doing, and, and I'll just give you an example of how I actually got involved in the space. I was running all the white papers in 2013, you know, the Satoshi white paper, I'm reading all this stuff online. And the way that my brain at least works is I need to do something in order to learn.
And so, what I did, I bought some mining equipment, and I bought some Bitcoin. And I learned about how that whole ecosystem worked by doing, you know, how much did I buy? I think I bought like a couple of hundred bucks worth.
So, for me, that was money that I effectively invested in my education to learn about this particular sector. So, you know what? I will leave investors with this: if you are thinking, I don't really understand the space, but I get a sense that there's something here because yeah, you've got the likes of Paul Tudor Jones, you've got big organizations, the big banks now moving into it.
What I definitely encourage you to do is invest in your education. You know, not only go into the Banxa of website, but there's a whole host of other educational material online, you can go and buy a hundred bucks worth of Bitcoin, see how it all works, touch it and feel it. And once you do that, you'll actually discover the power and the opportunity. And then obviously you'll see how Banxa fits into that ecosystem.